Last friday (August 27th) was the release of the seventh regular Sword & Shield set. Now we're only a little over a month away from the long awaited Celebrations set. This is a special set – this means that there are no boosterboxes of this set, the packs can only be found in special products. Celebrations is our 7.5th Sword & Shield set. Pokémon just unveilled information about our 8th Sword & Shield set that will release in November!
The set will be called "Fusion Strike" and release on November 12.
"Fusion Strike" is in fact a new mechanic for the game. Battle Styles introduced 2 new mechanics; "Single Strike" and "Rapid Strike" and now we have a third one: "Fusion Strike".
Have a look at the amazing logo: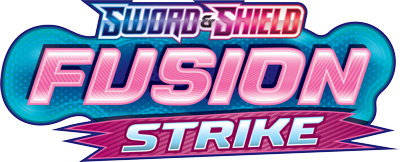 This set will include:
20 Pokémon V & 13 full-art Pokémon V
8 Pokémon VMAX
20 Trainer cards & 7 full-art supporter cards
1 Special Energy card
In total over 260 cards! A new record?
By looking at the packarts we are certain that the set will contain cards featuring Boltund V, Genesect V, Gengar V & VMAX and Mew V & VMAX.
All products for this set also have been revealed and you can already pre-order them here! Some products have a discounted price when you buy them during pre-order.